TRAIL HAPPENINGS
THE ORIGINAL RAP ROUTE IS FIXED: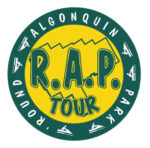 TOP Trail B at Pine Springs is reopened after a $186,000 washout repair at McDonald Creek. The original Round Algonquin Park RAP tour route is restored and Haliburton and Muskoka are properly connected. A big thanks to funding partners Haliburton ATV Association, Ontario Federation of Snowmobile Clubs, Bancroft Minden Forestry Corporation, and The Federation of Ontario 4 Wheel Drive Recreationalists.
A TOP B112 REROUTE:
-TOP B112 is rerouted south of Gelert at Kendrick Creek onto South Lake over to Hospitality Road. Follow the signs. Off season tresspassers resulted in the landowners closing the trail to all users. We ask everyone to respect private property.

BIG CHANGES NEAR HALIBURTON LAKE:
TOP  "B"  is rereouted from Haliburton Lake to the TOP "E" Trail intersection. A landowner tresspassing concern is addressed,  #10 as shown, will be removed from our Trail Guide next season.  This route is easier to groom eliminating a steep slope and swamp and more enjoyable for you our ride featuring  flat, wide, gentle curves. It's 2 kms longer, all the more to enjoy
STAGING AREAS ANNOUNCED: Looking for long-term truck and trailer parking ? Park and Ride out of Dysart (Haliburton Village) and in Algonquin Highlands (near Stanhope) minutes north of Carnarvon.

In Haliburton on your GPS: 116683 Highway 118 on the edge of town. Easy access to TOP B103.

In Algonquin Highlands on your GPS: 1020 Heron Landing Road. Easy access to TOP B..
Keep updated on HCSA happenings and "Like" us on Facebook. Haliburton County Snowmobile Association -HCSA.
We invite you to visit our SnoCam page. www.hcsa.ca/snocam 
Total Page Visits: 2345 - Today Page Visits: 3